Ever wonder what it would be like to watch Greg and his teammates play softball against able-bodied opponents?
Well you will have a chance to see them in action on Friday night and Saturday afternoon, June 2nd & 3rd at the Cranston Stadium, 23 Jordan Ave. Cranston, RI.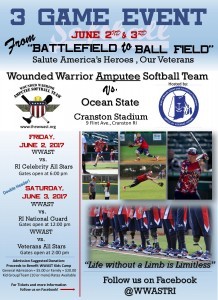 Suggested ticket donation is $5.00 with special pricing available. All proceeds will go towards funding the WWAST Amputee Kids Camp. For more information go to the Facebook page or email Norm Harrison at info.wwastRI17@gmail.com.
You'll have a wicked good time! No excuses!